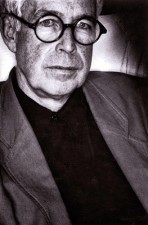 Sir Howard Hodgkin is a British printmaker and painter, born in London in 1932. He studied at the Camberwell School of Art and the Bath Academy of Art. He began exhibiting seriously at the age of 30. Hodgkin works in generally a small scale, often painting in a gestural style with flat colors. He often refers to memories and private experiences, but deliberately avoids the illustrational. Though his works are small and appear spontaneous, they are the result of a constant process of over-painting, sometimes extending over many years.
Hodgkin has also produced many prints, with a preference for screen-printing and lithography in his earlier works of the 60's and 70's. However, for his more recent work, Hodgkin has favored etchings and aquatint, as these provide a greater emphasis on texture. To further create a layering effect in his prints, Hodgkin sometimes hand-colors the image after printing.
In 1985, Hodgkin won the Turner Prize and took part in the Venice Biennale. He taught for some years at the Charterhouse School, then the Bath Academy of Art, and finally the Chelsea School of Art. He continues to exhibit frequently. The Tate Gallery in London has an impressive collection of his work.