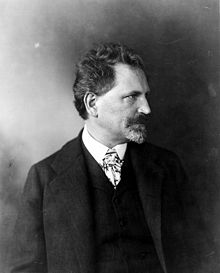 Alphonse Maria Mucha (born 1860 Ivancice, Moravia (Czech Republic); died 1939), was a Czech artist. Alphonse Maria Mucha was a prominent figure of the Art Nouveau Movement. Although most famous for his posters and paintings, Mucha worked in a variety of media, including jewelry, textiles, furniture, sculpture, and stage sets. He first started his training taking drawing lessons at the Academy of Visual Arts in Prague. In 1890 he moved to Paris, where he enrolled at the Academie Julien and studied with J.P. Laurens, Gustave Boulanger, and Lefebvre.
He found immediate success when he was commissioned to create a poster for the actress Sarah Bernhardt; she was extremely pleased with the way it turned out and as a result Mucha secured a 6 year contract working for the actress. Even though Mucha's work is seen as one of the leading examples of Art Nouveau, the artist is often associated with the Symbolist, Movement for his philosophy and overly romanticized images. He was influenced by such artists as Dante Gabriel Rossetti, Carlos Scwabe, and Eugene Grasset as well as Byzantine and Japanese art. In 1910 he returned to his homeland, and during this time he worked on his most famous work, The Slav Epic, which consisted of 20 paintings that featured major points in Czech history and of other Slavic countries. The Slav Epic took Mucha eighteen years to complete, supposedly inspired by his experience working at the Bosnian pavilion at the Paris World Fair in 1900.
After the Czech Republic won independence in 1918, Mucha designed the country's money and stamps at no charge. In 1939 Mucha was arrested by the Gestapo at the onset of World War II and was released, but he did not last much longer, dying in Prague of that year.