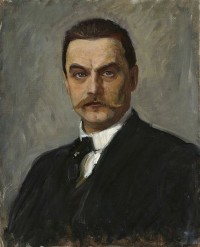 Albert Gustaf Aristides Edelfelt was a Finnish Academic painter, one of the leading Finnish painters during the 19th century.
He was born in Porvoo, Finland. His architect father Carl Albert gave him training as a draftsman. Edelfelt admired the poet laureate Johan Ludvig Runeberg, who was a friend of the family. The company of Runeberg had a lasting impact on Edelfelt.
Albert Edelfelt studied art from 1869 in Helsinki, Antwerp, Paris and St. Petersburg, taking up plein-air painting at the influence of Bastien-Lepage. His work included scenes from Finnish life and history and some biblical subjects. He also was a portraitist and book illustrator.
During the 1880s he was acclaimed for portraits and Naturalistic studies, but journeys to the French and Italian Riviera and to the Finnish lake district saw him shift from Naturalism to Impressionism. He married Baroness Ellan de la Chapelle in 1888 and they had one child.
Edelfelt was one of the first Finnish artists to achieve international fame. He enjoyed considerable success in Paris and was one of the founders of the Realist art movement in Finland. He influenced several younger Finnish painters and helped fellow Finnish artists such as Akseli Gallen-Kallela to make their breakthrough in Paris.
He was chairman of the Artists' Society of Finland from 1895 to 1904 and the Finnish Art Society from 1903 up to his death in 1905.