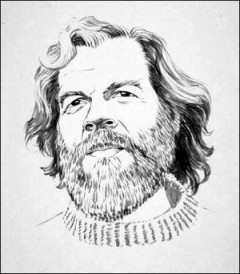 Bill Martin, an internationally renowned artist, will forever be associated with the "Visionary Art" movement. His paintings explored the universe and portrayed it in its most spectacular, beautiful forms. Bill's intricately-painted images have captured the imagination of millions of people around the world.
Walter Hopps, the Smithsonian Institution's Curator of the 20th Century American Art Collection explained, "Bill Martin's images posses an inexplicable compelling power."
Bill's works are exhibited worldwide from the USA to England, France, Japan, Canada, Australia, India and the Czech Republic. His paintings are in the public collections of AT&T, San Francisco International Airport, Boise Museum of Art, Oakland Museum of Art in California, Neue Galerie der Stadt in Germany, Corning Glass in Ohio, Capital Research and Management in Los Angeles, and the Vesti Corporation in Boston, among others.
In the introduction to his book, Lost Legends, Bill described his art, process and philosophy as follows: "There seem to be two distinct but compatible directions in my art. The first is concerned with the depiction of imagined realities. The other is the depiction of perceived realities. By observing the existing subjects I am drawn to paint, I find new underlying currents in my own subconscious. Thus in my art I explore the conscious, subconscious, and the intercommunication between."
Ultimately, Bill's work transcended the canvas. People frequently reference breathtaking sunsets, otherworldly meteor showers and thunderous electrical storms as "Bill Martin" scenes. Bill's name is eternally synonymous with those pinnacle moments.
A perpetual inventor, Bill frequently worked with an intricate assembly of pulleys, levers, ropes, weights and counterbalances to make his workspace as efficient as possible. He was an avid punster, beekeeper and played Go, the ancient Chinese chess game. Bill was also a dedicated husband, father and grandfather. Soft-spoken, with his glowing smile, flowing red hair, rugged beard and standing at a towering 6' 5", Bill was the consummate gentle giant.
William Henry Martin was born in South San Francisco on January 22, 1943. He received his BFA and MFA from the San Francisco Art Institute, and is the author of the books Paintings 1969–1979, The Joy of Drawing and the aforementioned Lost Legends. Bill taught at the University of California, Berkeley, the San Francisco Art Institute and the Academy of Art University. Bill worked as a professional artist his entire life, first gaining notoriety in the 1960's. In 1980, he moved from the San Francisco Bay Area to Mendocino, California, where he continued to paint 6 days a week, 9 hours per day, until his passing in 2008. The scenery of Mendocino is evident in many of his landscapes. As for his depictions of the universe and the great beyond, Bill resides there.
This short Biography is courtesy of the Bill Martin website: https://www.billmartingallery.com/