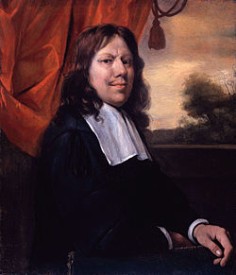 Jan Steen (born about 1626 Leyden, The Netherlands, died about 1679 Leyden, The Netherlands), was a Dutch Painter. Remarkably, given the meager living he made from art, Jan Steen was the humorist among Dutch painters. He persevered, creating nearly eight hundred pictures, most with a moral beneath the wit. A prosperous brewer's son, Steen enrolled in Leyden University in 1646, but by 1648 he was helping to found the Leyden Guild of Saint Luke. His teachers may have included Nikolaus Knüpfer. Steen was not one to stay put; he lived in The Hague; Haarlem; Leyden, where he ran a tavern; and Delft, where he leased a brewery. He married Jan van Goyen's daughter.
Steen dated few paintings and frequently varied his style. His range included riotous tavern scenes and gentle lessons. His commonplace interiors with ordinary people look straightforward, but he usually included a moral, sometimes as an inscription. Allusions to old proverbs, emblems, literature, and the theater abound. A lifelong Catholic, he painted more than sixty religious pictures, usually treating them like incidents in seventeenth-century Holland and not holding back on the humanity or humor. Steen's skill in rendering light and texture rank him with Gerard ter Borch. He frequently portrayed himself in pictures — not necessarily flatteringly. The Dutch call a lively, untidy home a "Jan Steen household."
The image accompanying this short biography is a self-portrait painted circa 1670. It is an oil on canvas painting, 73 x 62 centimeters (28.7 x 24.4 inches), and is hanging at the Rijksmuseum in Amsterdam.