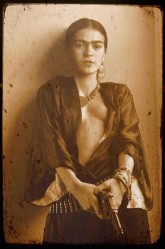 Magdalena Carmen Frieda Kahlo y Calderůn de Rivera (born July 6, 1907, CoyocoŠn, Mexico, died July 13, 1954, CoyocoŠn), Mexican painter. The daughter of a German Jewish photographer, she had polio as a child and at 18 suffered a serious bus accident. She subsequently underwent some 35 operations; during her recovery, she taught herself to paint. She is noted for her intense self-portraits, many reflecting her physical ordeal.
Like many artists working in post-revolutionary Mexico, Kahlo was influenced by Mexican folk art; this is apparent in her use of fantastical elements and bold use of color, and in her depictions of herself wearing traditional Mexican, rather than European-style, dress. Her marriage to painter Diego Rivera (from 1929) was tumultuous, but artistically rewarding.
The Surrealists Andrť Breton and Marcel Duchamp helped arrange exhibits of her work in the U.S. and Europe, and though she denied the connection, the dreamlike quality of her work has often led historians to identify her as a Surrealist. She died at 47. Her house in CoyocoŠn is now the Frida Kahlo Museum.