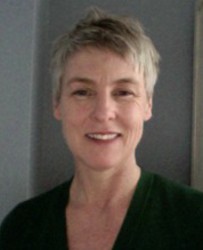 Lani (rhymes with rainy) Kennefick February 14, 1961–
After graduating from the Rhode Island School of Design in 1983, Lani Kennefick embarked on the much romanticized life of an artist on the lower east side of Manhattan during the 1980's. It was a hectic and vibrant time when, along side her painting practice, she began what was to become a life long study of the occult. Years later, after raising her daughter as a single parent, she went back to NY to receive her Masters Degree in painting. It was during this time she began painting the "Small Animal" series. Inspired visually by Asian art, the subject matter remained in the realm of the occult, and is especially rooted in Anthroposophy.
In light of her Anthroposphical studies and her experience in graduate school, Lani is creating a curriculum exploring the role of Spirit in art, with the hope of some day sharing it with other artists. Currently living and working in Brooklyn, NY she is involved in the NYC branch of the Anthroposphical Society, and is scheduled to show in the society's Centerpoint Gallery in September of 2014. More information and images are available at lanikennefick.com. Paintings and Giclee prints are for sale on the website as well.