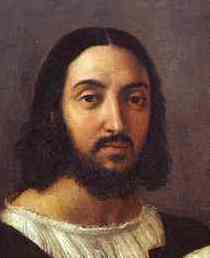 Raphael: Italian in full RAFFAELLO SANZIO (b. April 6, 1483, Urbino, Duchy of Urbino [Italy] – d. April 6, 1520, Rome, Papal States [Italy]), master painter and architect of the Italian High Renaissance. Raphael is best known for his Madonnas and for his large figure compositions in the Vatican in Rome. His work is admired for its clarity of form and ease of composition and for its visual achievement of the Neoplatonic ideal of human grandeur.
"While we may term other works paintings, those of Raphael are living things; the flesh palpitates, the breath comes and goes, every organ lives, life pulsates everywhere."
— Vasari, Lives of the Artists
From October of 1916 through January of 1917, Rudolf Steiner gave a series of nine lectures known as the Art Course. These lectures were given the title of: The History of Art. Click here to discover what Steiner said about Raphael in the first lecture, the second lecture, or in the entire lecture series.