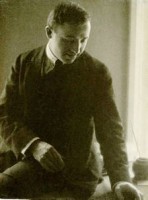 Max Weber, (born April 18, 1881, Białystok, Russian Empire [now in Poland] — died October 4, 1961, Great Neck, New York, U.S.), Russian-born American painter, printmaker, and sculptor who, through his early abstract works, helped to introduce such avant-garde European art movements as Fauvism and Cubism to the United States.
Weber immigrated to New York City with his parents in 1891 and studied from 1898 to 1900 at the Pratt Institute in Brooklyn with the renowned teacher Arthur Wesley Dow. From 1905 to 1908 he lived in Paris, where he studied at the Académie Julian and with Henri Matisse. While in Paris, Weber became a regular at the salon of Leo and Gertrude Stein and formed friendships with the artists Henri Rousseau and Pablo Picasso. Upon returning to New York in 1909, he became part of the city's avant-garde circle and was one of the exhibitors at Alfred Stieglitz's "291" gallery. Between 1909 and 1917 he painted many of his best-known pictures, including the Fauvist-inspired The Geranium (1911) and Chinese Restaurant (1915), a work created in the Synthetic Cubist manner. During this period he favored subjects such as skyscrapers and city interiors. In his figure studies he expressed the dynamism of the American city by fragmenting objects in motion.
Weber's work became increasingly representational after 1917, but he continued to be fascinated with the exploration of color and form. During the last 20 years of his career many of his paintings were based on Jewish subject matter, especially Hasidic themes. Like many immigrant artists during the 1930s, Weber became active in socialist causes and, in 1937, served as national chairman of the American Artists' Congress, an antifascist artists' group. Weber taught at the Art Students League in New York, teaching a painting class that the young Mark Rothko attended. Weber's publications include Essays on Art (1916) and Primitives (1926).