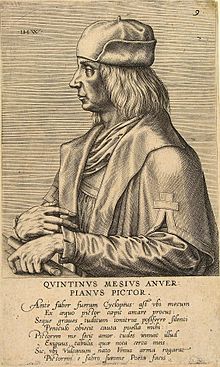 Quentin Matsys, Matsys also spelled Massys, Metsys, or Messys (born c. 1465/66, Leuven, Brabant [now in Belgium] – died 1530, Antwerp), was a Flemish artist, the first important painter of the Antwerp school.
Trained as a blacksmith in his native Leuven, Matsys is said to have studied painting after falling in love with an artist's daughter. In 1491 he went to Antwerp and was admitted into the painters' guild.
Among Matsys's early works are two pictures of the Virgin and Child. His most celebrated paintings are two large triptych altarpieces, The Holy Kinship, or St. Anne Altarpiece, ordered for the Church of Saint-Pieter in Leuven (1507–09), and The Entombment of the Lord (c. 1508–11), both of which exhibit strong religious feeling and precision of detail. His tendency to accentuate individual expression is demonstrated in such pictures as The Old Man and the Courtesan and The Money Changer and His Wife. Christus Salvator Mundi and The Virgin in Prayer display serene dignity. Pictures with figures on a smaller scale are a polyptych, the scattered parts of which have been reassembled, and a later Virgin and Child. His landscape backgrounds are in the style of one of his contemporaries, the Flemish artist Joachim Patinir; the landscape depicted in Matsys's The Crucifixion is believed to be the work of Patinir. Matsys painted many notable portraits, including one of his friend Erasmus.
Although his portraiture is more subjective and personal than that of Albrecht Dürer or Hans Holbein, Matsys's painting may have been influenced by both German masters. Matsys's lost St. Jerome in His Study, of which a copy survives in Vienna, is indebted to Dürer's St. Jerome, now in Lisbon. Some Italian influence may also be detected, as in Virgin and Child, in which the figures are obviously copied from Leonardo da Vinci's Virgin of the Rocks.
Matsys's two sons were artists. Jan (1509–75), who became a master in the guild of Antwerp in 1531, was banished in 1543 for his heretical opinions, spent 15 years in Italy or France, and returned to Antwerp in 1558. His early pictures were imitations of his father's work, but a half-length Judith with the Head of Holofernes of a later date, now in the Museum of Fine Arts, Boston, shows Italian or French influence, as does Lot and His Daughters (1563). Cornelis Matsys (1513–79), Quentin's second son, became a master painter in 1531, painting landscapes in his father's style and also executing engravings.
From October of 1916 through January of 1917, Rudolf Steiner gave a series of nine lectures known as the Art Course. These lectures were given the title of: The History of Art. Click here to discover what Steiner said about Quentin Matsys in the sixth lecture, or in the entire lecture series.