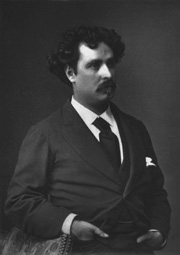 Mariano Fortuny, in full Mariano José María Bernardo Fortuny Y Marsal (born June 11, 1838, Reus, Spain – died Nov. 21, 1874, Rome, Italy), was a Spanish painter whose vigorous technique and anecdotal themes won him a considerable audience in the mid-19th century.
After four years at the Academy of Barcelona, Fortuny in 1858 won the Prix de Rome, which enabled him to complete his studies at Rome. In 1859 he was chosen by provincial authorities to go to Morocco to paint the scenes of the war between Spain and the emperor of Morocco. He soon returned to Spain but spent all of his remaining years in Rome, except for a year in Paris (1869–70). In Paris he entered into business relations with the noted art dealer Goupil; their association brought him large sums for his paintings and an international reputation.
Fortuny painted occasional large works, e.g., the huge "Battle of Tetuan," based on an incident in the Moroccan campaign and a fine example of pictorial reportage, charged with action and energy. More characteristic, however, are his small genre paintings filled with fine detail, works that attempted to recapture the grace and charm of an imaginary 18th-century scene.