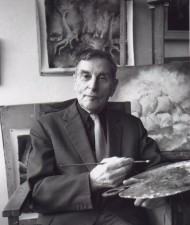 Hugo Landheer was born at Schiedam, near Rotterdam, 9th December 1896. "Black" Schiedam it was called, the "town of the gin", formerly surrounded by 20 windmills (the highest of Europe) grinding corn for distilling the spirits. In his eleventh year he began drawing and painting and from 1908 to 1916, when he was 19 years old, he was a student of William Hardenberg in Rotterdam.
After graduating H.B.S. Schiedam in 1919 he moved to The Hague where he studied and worked for 3 years at the State Academy of Art Image in Harpenden. He then became a teacher by day, while painting in the evening and sometimes even during the night.
In 1935 he moved from The Hague to a small village, called Epe, in the eastern part of The Netherlands, in order to be able to work quietly. He worked there for 28 years, and in 1963 he moved to Randstad. In 1988, being 92 years old and after the death of his beloved wife Ottie van der Vies, for physical reasons he moved to a senior citizens center in Bentveld.
In his Bentveld period, Hugo Landheer painted dozens of small works. He ended his painting career there April/May 1992, but kept on teaching until early 1995 his last studentfinally left.
Hugo Landheer died on 25 september 1995 in Bentveld (Municipality Zandvoort).