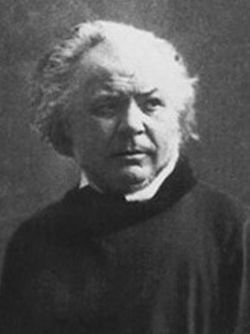 Daumier, Honoré (1808–79), was a French caricaturist, painter, and sculptor. In his lifetime he was known chiefly as a political and social satirist, but since his death recognition of his qualities as a painter has grown.
The Parisian public rightly admired Honoré Daumier as the newspaper caricaturist who so perceptively skewered their daily lives, but they never accepted him as a painter. Daumier died blind and a pauper without ever having received a painting commission.
A glazier's son who moved to Paris at age eight, Daumier spent his time after apprentice jobs copying works in the Louvre. When a museum official persuaded his parents to allow him to become an artist, he began his artistic training, mastering the new medium of lithography.
For his biting depictions of Emperor Louis-Philippe in the weekly journal La Caricature in 1832, Daumier spent six months in prison and began painting. After the state suppressed La Caricature in 1835, Daumier joined Le Charivari and turned to social satire. He ridiculed the bourgeoisie and the legal system and unsentimentally showed the misery of the masses with his crayon, much as Charles Dickens observed London in words.
Daumier's paintings were made mostly between 1855 and 1870, when his work for Le Charivari was slow and before he lost his sight. His nearly four thousand lithographs, in addition to his paintings, drawings, watercolors, and sculptures comprise the largest visual legacy of any artist before 1900.