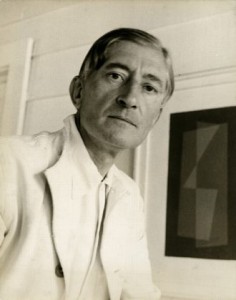 The German-American painter and art teacher Josef Albers was born in Bottrop on March 19, 1888. In 1905 he is trained to be a teacher in Langenhorst and Büren and works in Büren up until 1913. From 1913 to 1915 he attends the "Königliche Kunstschule" in Berlin, where he also takes the examination for art teachers. He changes to Essen in 1916 and attends the School of Arts and Crafts until 1919. Afterwards he attends the Munich Academy and is accepted into the drawing class of Franz von Stuck. He enrolls at the Bauhaus in Weimar in 1920. In 1923 he is given a teaching assignment by Walter Gropius, in 1925 he is appointed "Jungmeister" (Young Master) at the Bauhaus. Josef Albers takes over the glass workshop and leads the preparatory course along with László Moholy-Nagy, as of 1928 he holds this position by himself. He takes over the furniture workshop when Marcel Breuer leaves the Bauhaus in 1928.
Josef Albers' artistic activities reach their peak during his Bauhaus years. His designs of furniture, objects of utility, but also typographs, linocuts and lithographs clearly reflect an idea according to which all artistic activities are determined by both the object's intended use and the material. He feels obliged to this philosophy throughout his life. The influence of the Dutch artist group "De Stijl" becomes obvious in Albers' Bauhaus works.
Josel Albers immigrates to the USA after the Bauhaus had been closed. He follows a call to the newly found Black Mountain College in North Carolina, where he is head of the art department until 1949.
From 1933 to 1936 Josef Albers is a member of the group "Abstraction-Création", and joins the "American Abstract Artists" in 1938. He becomes director of the Department of Design at Yale University in 1950. The artist and his wife Anni move to Orange near New Haven in 1969.
Josef Albers' variations of the "Hommage to the Square", on which he works as of 1949 become quite famous and also determine his later works. They originate from his ponderings on theories of reception, on which he also makes a number of writings, he releases "Interaction of Color" in 1963 and "Formulation: Articulation" in 1972. Josef Albers' activities as an artist, theoretician and teacher can be observed in American Colourfield Painting as well as in Op-Art.
He increasingly uses graphic techniques, especially silkscreen and lithography, in the 1960s and 1970s.
Josef Albers died in New Haven, Connecticut on March 25, 1976.