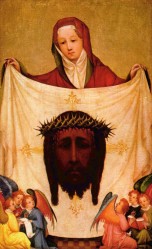 The Master of Cologne is regarded as the most important painter in Cologne before Stefan Lochner who was influenced by him. His work is distinguished by soft contours and subtle color combinations.
Also known as the Master of Saint Veronica, he worked in the International style in Germany between 1395 and 1415. Known primarily for his work in panel painting, his name derives from a painting of Saint Veronica in Munich. Brilliant colors, sweet and tender facial expressions, courtly costumes, and subtle modeling were key elements of the Master's style. He was one of the most important painters in Cologne, Germany, a major artistic and ecclesiastical center during the Middle Ages.
From October of 1916 through January of 1917, Rudolf Steiner gave a series of nine lectures known as the Art Course. These lectures were given the title of: The History of Art. Click here to discover what Steiner said about the Master of Cologne in the third lecture, or in the entire lecture series.