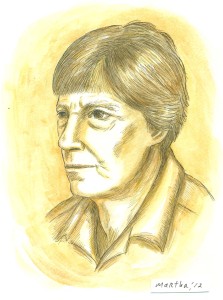 Martha Keltz began studies of drawing and oil painting while in high school, attracted primarily to illustrating, such as for stories and artist's books. After graduating from college with a BA in English and German, she began writing dramas and became involved in all aspects of theater production, principally as a director, but including costume, set, lighting design, and poster and program designs. A year of formal education in anthroposophical color and watercolor work involved extensive "painting out of color," in the "Gerard Wagner School" in Spring Valley, New York, followed by independent work and exhibits. Eventually there was a happy return to drawing, illustrating and book cover designs for the Studio Editions Drama Publications, and three years of formal studies in naturalism and landscape painting, in the acrylic medium, while teaching art to adults, with several gallery exhibits. Early in 2012, inspired by the work of the anthroposophical painter Hermann Linde, illustration and naturalism were combined with anthroposophical spirituality.
Paintings and artwork are not for sale; they are owned by the artist and are kept in presentation books, or "artist's books." Some have been given as gifts; eventually all will be given as gifts. However, most all are exhibited online, and the Seven Paintings noted above will be briefly exhibited with the Albuquerque Anthroposophia Group in December, 2012.
There is a detailed chronological biography, titled CV et cetera, a PDF document, available as a link on the Studio Editions Home Page.
Reference: Studio Editions Drama Publications, the Home Page and the Paintings Page, at – https://www.studioeditions.com/
Reference: The Brunnen von Christus Group pages, at – https://www.tcpubs.com/brunnen
The image accompanying this article is a Self-portrait, complete in October, 2012, especially for presentation on this site. It was created using pen & ink and acrylic wash. It is in the artist's collection.