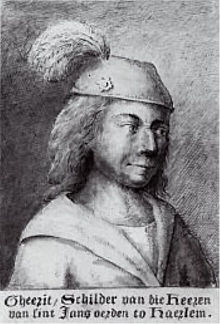 Geertgen Tot Sint Jans, (born c. 1465–died c. 1495), was a Dutch painter of religious subjects, notable for his harmonious fusion of the elements of the landscape.
Little is known of Geertgen's life: his surname derived from his living with the religious order of the Knights of St. John at Haarlem, Netherlands, where he was a pupil of the painter Ouwater at Haarlem. Many of his works have been destroyed, but portions of his masterpiece, a large triptych for the high altar of the Knights of St. John, survive. One wing, preserved in the Vienna gallery of painting and fine arts, presages the great portrait groups of 17th-century Dutch painting.
Several other paintings are ascribed to Geertgen on stylistic grounds, such as "St. John the Baptist in the Wilderness" and "Virgin and Child" in Berlin, "The Resurrection of Lazarus" in the Louvre (Paris), "The Virgin's Kindred" and "Adoration of the Magi" in Amsterdam, "The Man of Sorrows" at Utrecht, and a triptych in Prague. His "Nativity" in the National Gallery, London, is a night scene remarkable for its rendering of chiaroscuro.
From October of 1916 through January of 1917, Rudolf Steiner gave a series of nine lectures known as the Art Course. These lectures were given the title of: The History of Art. Click here to discover what Steiner said about Geertgen in the sixth lecture, or in the entire lecture series.