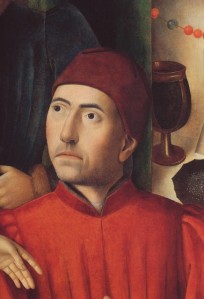 The Flemish painter Petrus Christus (ca. 1410–c. 1472) synthesized inherited styles in a creative manner. His work is distinguished by extreme clarity, precision of form, and advanced rendering of linear and aerial perspective.
He was born in the Flemish town of Baerle. His early training probably took place in the workshop of Jan van Eyck in Bruges, and Christus is his only known follower. He is first mentioned in 1444, when he became a free master in Bruges and was granted citizenship in the town. With the possible exception of a visit to Milan in 1457, he remained active in Bruges until his death in 1472 or 1473.
The earliest work by Christus dates from about 1441, when he appears to have completed the Rothschild Madonna, a painting begun by Jan van Eyck. The diminutive St. Jeromeis also thought to be a collaboration between master and pupil.
About 1445 Christus was also exposed to the influence of the great painter from Brussels, Rogier van der Weyden. The Nativity in Washington from this period shows an awareness of Rogier's fluid compositions and the sharpened emotional content of his works, while retaining Van Eyck's strong sense of form. At the same time the advanced landscape background transcends the work of either master in clarity and organization. Further pictorial innovations can be seen in the St. Eligius, which Christus signed and dated in 1449. Despite its muted religious overtones, this panel is rightly considered the first genre painting in northern art. In the Lamentation in Brussels, Christus set for himself the additional problem of integrating a figural composition derived from Rogier with his own subtle interests in lighting and the ordering of space.
The portraits by Christus reveal a major development of the schemes inherited from both Van Eyck and Rogier. In A Donor and His Wife (ca. 1460) Christus localizes the figures in an amplified architectural setting and reduces the sitters to simple, blocklike volumes. This ability to attain "progress through renunciation" is also present in the beguiling Portrait of a Young Woman (ca. 1470), which reveals an unprecedented directness in the approach to the sitter in combination with a subtlety of modeling and lighting that found no rival in northern painting until the time of Jan Vermeer.
From October of 1916 through January of 1917, Rudolf Steiner gave a series of nine lectures known as the Art Course. These lectures were given the title of: The History of Art. Click here to discover what Steiner said about Petrus Christus in the sixth lecture, or in the entire lecture series.