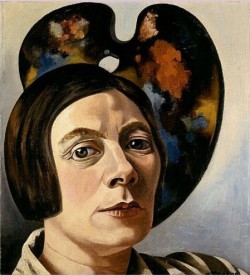 Charley Toorop, a Dutch born painter and lithographer, was born in Katwijk, Netherlands on March 24th 1891. She was the daughter of Jan Toorop and Annie Hall. She married the philosopher Henk Fernhout in May 1912, but they divorced in 1917. Her son Edgar Fernhout (1912–1974) also became a painter. Her other son, John Fernhout (1913–1987), became a filmmaker, and often worked together with Joris Ivens. As a filmmaker he sometimes used the name John Ferno. Charley's daughter in law was the well-known Jewish photographer Eva Besnyö (1910–2003), who married John in 1933.
In the on-line biography of the Dutch poet Hendrik Marsman on the website of the Dutch Literary Museum, Charley Toorop is mentioned as one of the women who had a relationship with Marsman before he married in 1929 his wife Rien Barendregt.
Toorop had lived at many different places, but from 1932 on she resided in Bergen, North Holland, a town she'd previously had her home between 1912–1915 and 1922–1926. There she designed and commissioned a house called "De Vlerken", situated at the Buerweg 19. The house is still there, although after a fire its thatched roof has been replaced by a tiled roof. Charley Toorop died in Bergen on November 5, 1955. Her works are in many public collections, notably in the Kröller-Müller Museum in Otterlo.