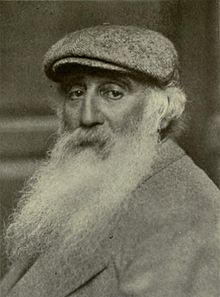 Camille Pissarro (b. July 10, 1830, St. Thomas, Danish West Indies — d. November 13, 1903, Paris), grew up on St. Thomas in the Antilles, where his parents, who had been born in France, ran a prosperous trading business. At the age of eleven, Pissaro was sent to Savary, a boarding school near Paris, where drawing was among the subjects he was taught. In 1851 he became acquainted with the young painter Fritz Melbye on St. Thomas and decided to go to Venezuela, where he remained until 1854, working hard on drawing. In 1855 he returned to Paris, where he became a pupil of the marine painter Anton Melbye.
Pissaro visited the Paris Exposition and was particularly impressed by the work of Delacroix, Courbet and Corot. He met Corot not long afterwards and followed his advice to paint from nature. The fruits of this approach were naturalistic landscapes in dark tones revealing the strong influence of Corot. In 1859 Pissarro was represented for the first time in the Salon and, at the Académie Suisse, he became acquainted with Monet and Cézanne. Thenceforth ties of friendship linked the three painters, which in the 1870s would lead to their establishing an artists' collective.
In 1863 Pissarro became a member of the "Société des Aquafortistes" and began to etch. In 1866 he met Manet and the Café Guerbois circle of artists — to which Renoir, Monet, Sisley, Zola et al belonged. Working in close association with Monet and Renoir, Pissarro began to lighten his palette and detach himself from the style of his teacher, Corot. The Franco-Prussian War made him flee to London, leaving almost all his pictures behind, which fell victim to the depredations of the German forces. In London Pissarro married his mistress of many years, Julie Vellay, with whom he had five children.
Returning to France in 1871, Pissarro worked with Monet and Cézanne in the years that followed. Now a member of the avant-garde, he was a driving force behind the first Impressionist Exhibition in 1874. He was the only artist to have participated in all eight Impressionist exhibitions up to 1882. In the 1880s, Pissarro, always a landscapist, turned to unemotional descriptions of peasant life and ended by changing his style, joining forces with the young painters Seurat and Signac to found the Neo-Impressionist movement.
The last decade of Pissarro's, during which his reputation was at its height with earnings to match, saw him take productive trips to London, Paris, Rouen and Dieppe. They brought forth urban landscapes in a "more moderate style," informed by optimism and the endeavor to render movement and atmosphere in visual terms.
Pissarro's œuvre comprises more than 2000 paintings and just as many drawings and prints.