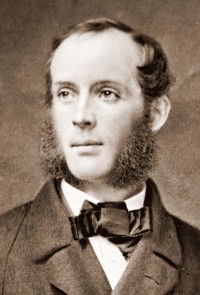 Frederic Edwin Church, (born May 4, 1826, Hartford, Connecticut, U.S. – died April 7, 1900, near New York, New York), was an American Romantic landscape painter who was one of the most prominent members of the Hudson River school.
Church studied with the painter Thomas Cole at his home in Catskill, New York, and they remained friends throughout their lives. From the beginning Church sought for his subjects marvels of nature such as Niagara Falls, volcanoes in eruption, and icebergs. He was greatly influenced by the writings of Alexander von Humboldt, the German naturalist and in 1853, while he was in Ecuador, stayed in a house where Humboldt had lived. Church portrayed the beauties of the Andes Mountains and tropical forests with great skill. Through his use of light and colour and his depiction of natural phenomena such as rainbows, mist, and sunsets, he created renderings that were realistic and emotionally affecting. His combined interests in exotic locales and natural science caused Church, on occasion, to approach a subject systematically. For example, he painted the Ecuadoran volcano Cotopaxi over the course of several years, in several states of eruption.
In 1849 Church was made a member of the National Academy of Design. Among his major works are Andes of Ecuador (1855), Niagara (1857), and Cotopaxi (1862). In his lifetime, Church received great praise for his work and sold his paintings for high prices. He traveled widely in Europe and the Middle East, but after 1877 he was compelled to abandon painting because of crippling rheumatism in his hands. He died at Olana, his house on the Hudson River, which is now a museum. Enthusiasm for Church's works was rekindled in the late 20th century, when art historians began to consider him one of the foremost American landscape painters. Church's long-lost masterpiece, Icebergs (1861), was rediscovered in 1979.