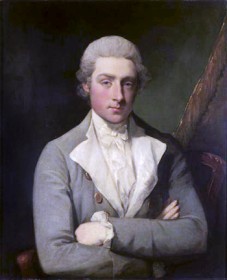 Gilbert Stuart was born on December 3, 1755, in Saunderstown, Rhode Island. He was born in the water-powered snuff mill that his father operated. Stuart showed such early promise as an artist that he traveled, with artist Cosmo Alexander, to learn his craft in England and Scotland in 1769. Unfortunately, Alexander died during their tour, and it was up to a 15 year-old Gilbert to work his way back to the U.S. Undaunted, he executed small commissions in his native Newport until he could travel back to England in 1775. This journey proved more successful than the first, and Stuart entered the studio of painter Benjamin West.
Making the most of his time in London, he learned quickly, garnered an important clientele and was able to exhibit at the Royal Academy by 1787. He also married and led a cheerfully lavish lifestyle. This last proved disastrous, as Stuart had absolutely no head for finances. He moved to Dublin in 1787 (one step ahead of an English debtors' prison) and spent the next five years painting Earls and Lords in Ireland. In 1793, once again fleeing creditors, he returned to America for the final time.
This last phase of his career was so successful that Stuart had more work than he could handle. He'd developed his own distinctive style (emulated by the next generation of painters) that led to the title, "Father of American Portraiture." After living in Philadelphia and Washington, D.C., he settled in Boston in 1805, and spent the next 24 years painting Presidents, First Ladies, important figures in early American history and — of course — wealthy people from all along the Eastern seaboard.
Though he is best known today for his portraits of George Washington, Stuart is credited with well over 1,000 bust-, three-quarter- and full-length works. Many of these were unfinished and attribution is somewhat problematic at times, as he almost never signed his work. And, despite these many, hefty commissions, he never did develop any business sense. Ironically, the artist whose work is seen millions of times each day (on the U.S. $1 bill) died broke in 1828.
The image that accompanies this article is Stuart's Self-portrait, painted in 1785.