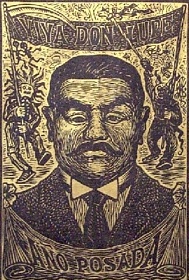 José Guadalupe Posada was a prolific printmaker and illustrator, with a powerful body of work that belied the relatively quiet life he led. He was born to German Posada and Petra Aguilar, both poor and of peasant origin, in Aguascalientes, Mexico, in 1852. He began to show artistic promise at a very young age, copying religious cards or prints in bibles to help his brother Cirilo, a schoolteacher, with his youngest students. Though he attended a drawing academy directed by Antonio Varela, he did not stay long, instead preferring to teach himself what he could before working at the lithography shop of Trinidad Pedrozo. Here, he did illustrations for the newspaper El Jicote Ilustrado, earning his first recognition as an artist by the public.
In 1873, Posada married Maria de Jesus Vela, and moved to Mexico City following a great flood that demolished much of Leon, where he made his living as an illustrator for a local newspaper. In Mexico City he continued his work for news publications; by 1890, he was working as a permanent staff member of the Antonio Vanegas Publishing House, a mutually rewarding partnership that lasted until his death. These broadsides and newspapers became a voice for the people, many of whom could not read or write, and explained the circumstances of political upheaval, local incidents, and everyday-people's stories in a single image. These works of art became known for their succinct and elegant portrayal of Mexican daily life and political happenings, and played a major part in the revival of the country's art. Posada is credited with greatly influencing budding artists Orozco and Rivera, both young students at the time.
Despite his humble yet rebellious nature and the ever-increasing popularity of his work, Posada's financial success was limited. He never became wealthy, and he drank excessively; eventually he succumbed to enteritis, alone and impoverished, in January of 1913.