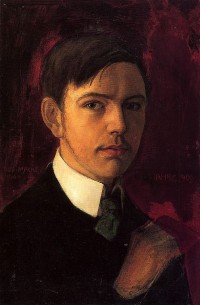 August Robert Ludwig Macke was born in Germany on 3 January 1887, in Meschede, Westphalia. He was the only son of August Friedrich Hermann Macke (1845-1904), a building contractor and amateur artist, and his wife, Maria Florentine, née Adolph, (1848-1922), who came from a farming family in Westphalia's Sauerland region. Shortly after August's birth the family settled at Cologne, where Macke was educated at the Kreuzgymnasium (1897-1900) and became a friend of Hans Thuar, who would also become an artist. In 1900, when he was thirteen, the family moved to Bonn, where Macke studied at the Realgymnasium and became a friend of Walter Gerhardt and Gerhardt's sister, Elisabeth, whom he would marry a few years later.
The first artistic works to make an impression on the boy were his father's drawings, the Japanese prints collected by his friend Thuar's father and the works of Arnold Böcklin which he saw on a visit to Basel in 1900. In 1904 Macke's father died, and in that year Macke enrolled at the Kunstakademie Düsseldorf, under Adolf Maennchen (1904-1906). During this period he also took evening classes under Fritz Helmut Ehmke (1905), did some work as a stage and costume designer at the Schauspielhaus Düsseldorf, and visited northern Italy (1905) and Netherlands, Belgium and Britain (1906).
Thereafter Macke lived most of his creative life in Bonn, with the exception of a few periods spent at Lake Thun in Switzerland and various trips to Paris, Italy, the Netherlands and Tunisia. In Paris, where he traveled for the first time in 1907, Macke saw the work of the Impressionists, and shortly after he went to Berlin and spent a few months in Lovis Corinth's studio. His style was formed within the mode of French Impressionism and Post-impressionism and later went through a Fauve period. In 1909 he married Elisabeth Gerhardt. In 1910, through his friendship with Franz Marc, Macke met Kandinsky and for a while shared the non-objective aesthetic and the mystical and symbolic interests of Der Blaue Reiter.
Macke's career was cut short by his early death in the second month of the First World War at the front in Champagne, France, on 26 September 1914. His final painting, Farewell, depicts the mood of gloom that settled after the outbreak of war. This was also the same year that he painted the famous painting, Türkisches Café in München (1914)