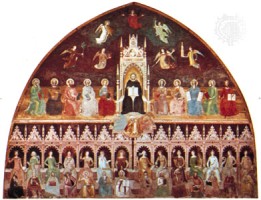 Andrea di Bonaiuto da Firenze (active 1343–1377) was an Italian painter. He was probably born in Florence where he was active from 1343. Andrea di Bonaiuto is known for his stained glass window of the Coronation of Mary in the Basilica of Santa Maria Novella, and his fresco decorations in the Spanish chapel (then called Cappellone degli Spagnoli) of the chapter house there.
Andrea da Firenze (Andrea Bonaiuti), was a Florentine painter. From January 1346 he was registered in the Arte dei Medici e Speziali in Florence. The earliest paintings that can be attributed to him suggest that he must have formed a close association with the workshop of Andrea di Cione. The small portable triptych of the Virgin and Child with Saints and Angels (centre panel, Copenhagen, Statens Museum for Kunst; side panels of the Nativity and the Crucifixion, Houston,Museum of Fine Arts) shows the influence of Maso di Banco and of the painter of the Strozzi Chapel frescoes in the Chiostrino dei Morti, Santa Maria Novella, Florence.
Andrea da Firenze is remembered mainly for his frescoes in the Spanish Chapel of Sta Maria Novella, Florence. This is a church of the Dominican Order, and the frescoes, illustrating the Triumph of the Faith and the Dominican doctrine, in both their severity and their meticulous detail, accorded with the expository style of the Dominican preaching friars.
Andrea is last recorded in 1377 working on frescoes of the Life of St Raynerius in the Campo Santo at Pisa. He died in Pisa.
From October of 1916 through January of 1917, Rudolf Steiner gave a series of nine lectures known as the Art Course. These lectures were given the title of: The History of Art. Click here to discover what Steiner said about Firenze in the first lecture, or in the entire lecture series.