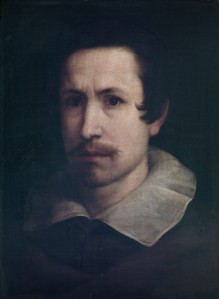 Daniele Crespi spent his career producing religious subjects of which the most famous is his portrayal of S. Carlo Borromeo at Supper 1628, Milan, Chiesa della Passione. Here the saint's austerity, simplicity, and piety are given powerful visual expression in a manner that has strong affinity with the Spanish realists of the early seventeenth century, particularly Zurbarán.
Reportedly he was thirty three at his death in 1630, so his birthdate would likely be 1596 or 1597. By the time he was accepted into Giovanni Battista Crespi's classes taught in the Accademia Ambrosiana in 1621, he was reportedly already too busy with commissions to attend.
He is first recorded assisting Guglielmo Caccia on the frescoes for the dome of the church of S. Vittore al Corpo, Milan, ca. 1619. Crespi is credited with the massive Michelangelesque figures of the Evangelists in the pendentives. In 1621 he completed Four Evangelists for the pendentives of the Capella dell1 Annunciata of S. Eustorgio,Active in Milan, Crespi also received commissions from Novara, Piacenza, and Pavia, including the frescoes and three canvases depicting the life of St. John the Baptist for the Capella di San Giovanni Battista in San Protaso ad Monachos, Milan, of 1623. Now transferred to the Basilica di San Giovanni at Busto Arsizio, they show Crespi rapidly moving toward an austere realism, still tempered by the gentle sweetness of Correggio. Crespi's career was cut short by the plague of 1630.
Crespi may have been more responsive than earlier artists to the Spanish influence prevalent in Milan during the early part of the century. It is notable in such paintings as the half length saints set along the nave pillars of Ste. Maria della Passione in Milan, or his Martyrdom of St. Mark dated 1626, Novara, church of S. Marco. Cerano delivered his Savior in Glory with Saints to the Certosa of Pavia in 1628. His last major effort was the fresco cycle, finished in 1629, portraying the lives of St. Hugo and Bruno on the walls and ceiling of the nave of the Certosa di Garegnano on the outskirts of Milan.