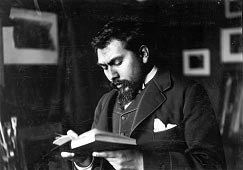 Jan Theodoor Toorop was born on 20 December 1858 in Purworejo, Java, Dutch East Indies. In 1872, he moved with his family to the Netherlands, where he studied in Delft and Amsterdam. In 1886 he married Annie Hall, an English woman. He began spending time in The Hague, England, Brussels, and the Dutch seaside towns of Katwijk aan Zee and Domburg.
Toorop worked in various styles, including Realism, Impressionism, Neo-Impressionism and Post-Impressionism. Later he developed his own unique Symbolist style, with dynamic, unpredictable lines based on Javanese motifs, highly stylised willowy figures, and curvilinear designs, then Art Nouveau. He also created book illustrations, graphical works, and stained glass designs. In 1905 he converted to Catholicism, changed his name to Johannes, and began producing religious works ... some that were even mystical.
In 1927, Toorop's last self portrait (with cross) is an enormously powerful work of art (see below). Jan Toorop dies on the 3rd of March 1928 in The Hague. The image at right is of Jan Toorop in Amsterdam in 1892.