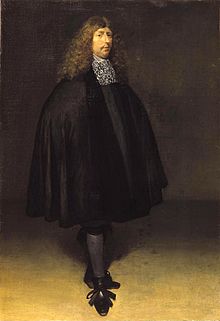 Gerard ter Borch was born in December 1617 in Zwolle in the province of Overijssel in the Dutch Republic. He received an excellent education from his father Gerard ter Borch the Elder, also an artist, and developed his talent very early. The inscription on a study of a head proves that Ter Borch was at Amsterdam in 1632, where he studied possibly under Willem Cornelisz Duyster or Pieter Codde. Duyster's influence can be traced in a picture bearing the date 1638, in the Lonides Bequest (Victoria and Albert Museum). In 1634 he studied under Pieter de Molijn in Haarlem. A record of this Haarlem period is the Consultation (1635) at the Berlin Gallery.
In 1635 he was in London, and subsequently he traveled in Germany, France, Spain and Italy. His sister Gesina also became a painter. It is certain that he was in Rome in 1641, when he painted the small portraits on copper of Jan Six and A Young Lady (Six Collection, Amsterdam). In 1648 he was at Münster during the meeting of the congress which ratified the treaty of peace between the Spaniards and the Dutch, and executed his celebrated little picture, painted upon copper, of the assembled plenipotentiaries — a work which, along with the a portrait of a Man Standing, now represents the master in the national collection in London. The picture was bought by the marquess of Hertford at the Demidoff sale for 1280, and presented to the National Gallery by Sir Richard Wallace, at the suggestion of his secretary, Sir John Murray Scott.
At this time Ter Borch was invited to visit Madrid, where he received employment and the honor of knighthood from Philip IV, but, in consequence of an intrigue, it is said, he was obliged to return to the Netherlands. He seems to have resided for a time in Haarlem; but he finally settled in Deventer, where he became a member of the town council, as which he appears in the portrait now in the gallery of the Hague. He died at Deventer in 1681.
The image accompanying this article is a Self-portrait by Gerard ter Borch, painted between 1666 and 1670. It is and oil on canvas work measuring 62.7 x 43.7 cm (24.7 x 17.2 in). It is hanging at the Royal Picture Gallery Mauritshuis, at The Hague.