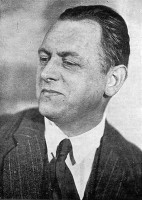 Kurt Schwitters was born Herman Edward Karl Julius Schwitters on June 20, 1887, in Hannover. He attended the Kunstgewerbeschule in Hannover from 1908 to 1909 and from 1909 to 1914 studied at the Kunstakademie Dresden. After serving as a draftsman in the military in 1917, Schwitters experimented with Cubist and Expressionist styles. In 1918, he made his first collages and in 1919 invented the term "Merz," which he was to apply to all his creative activities: poetry as well as collage and constructions. This year also marked the beginning of his friendships with Jean Arp and Raoul Hausmann. Schwitters's earliest Merzbilder date from 1919, the year of his first exhibition at Der Sturm gallery, Berlin, and the first publication of his writings in the periodical Der Sturm. Schwitters showed at the Société Anonyme in New York in 1920.
With Arp, he attended the Kongress der Konstructivisten in Weimar in 1922. There Schwitters met Theo van Doesburg, whose De Stijl principles influenced his work. Schwitters's Dada activities included his Merz-Matineen and Merz-Abende at which he presented his poetry. From 1923 to 1932, he published the magazine Merz. About 1923, the artist started to make his first Merzbau, a fantastic structure he built over a number of years; the Merzbau grew to occupy much of his Hannover studio. During this period, he also worked in typography. Schwitters was included in the exhibition Abstrakte und surrealistische Malerei und Plastik at the Kunsthaus Zürich in 1929. The artist contributed to the Parisian review Cercle et Carré in 1930. In 1932, he joined the Paris-based Abstraction-Création group and wrote for their organ of the same name. He participated in the Cubism and Abstract Art and Fantastic Art, Dada, Surrealism exhibitions of 1936 at the Museum of Modern Art, New York.
The Nazi regime banned Schwitters's work as "degenerate art" in 1937. This year, the artist fled to Lysaker, Norway, where he constructed a second Merzbau. After the German invasion of Norway in 1940, Schwitters escaped to Great Britain, where he was interned for over a year. He settled in London following his release, but moved to Little Langdale in the Lake District in 1945. There, helped by a stipend from the Museum of Modern Art, he began work on a third Merzbau in 1947. The project was left unfinished when Schwitters died on January 8, 1948, in Kendal, England.