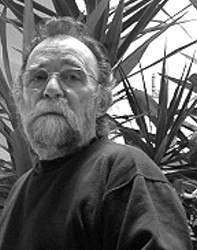 André Bertounesque's richly painted landscapes are romantic without being sentimental, balancing the serenity of a dream with the radiance of a very tangible summer day. His painting gently reconciles man with nature, often portraying the revealing effect of natural light on a scene which would otherwise be overlooked: the corner porch, bend of a path in the deep woods, reclusive garden house.
Born in France, Bertounesque arrived in Canada in 1955 and has maintained home and studio in Quebec ever since. Although his interest in drawing began as a child, the self-taught artist had a hundred other vocations before settling down as a painter in 1963. An avid traveler, his first series of paintings focused on the beaches of coastal Florida before concentrating on the distinct aspects of Canadian landscape.
Since the early 1980s, Bertounesque has participated in several gallery exhibitions in both Canada and the United States, receiving considerable press attention. His painting is collected by several prestigious North American private and corporate collections including: Diversy Corp., Sabex, Boucherville, Information BFG, Gilles Messier Associates, Scotia Bank, Imperial Oil, Quevillon Inc., Gestion informatique Oka, IBM Canada and Air Canada.