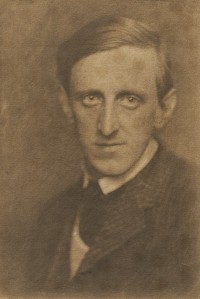 Marsden Hartley (born January 4, 1877; died September 2, 1943), was a renowned American essayist, poet, and Modernist painter. He is perhaps best known for his Dogtown series of paintings, as well as for his book of poetry entitled Twenty-five Poems. Hartley was born into a large family in which he was the youngest of nine children. He was born in Lewiston, Maine, where his family stayed until moving to Cleveland, Ohio. While there, Hartley attended the Cleveland School of Art. At the age of 22, Hartley chose to study with William Merritt Chase (1849–1916) at the New York School of Art. Hartley also attended the National Academy of Design at one point.
During his stay in Manhattan, Hartley befriended Albert Pinkham Ryder (1847–1917), who inspired Hartley to see his art in a more spiritual sense. In 1908, Hartley moved to Lovell, Maine, to live on an abandoned farm. During his time at the farm, Hartley produced what he considered his first mature paintings. Art promoter Alfred Stieglitz was impressed with the paintings, and so he helped Hartley stage his first solo art exhibition.
In 1912, Hartley went to Europe. While in Europe, Hartley befriended various artists and writers who were associated with Gertrude Stein (1874–1946). With the encouragement of the people he met in Paris, Hartley decided to pursue writing in addition to his painting. By 1913, Hartley had moved to Berlin. During his time in Berlin, Hartley's work was greatly influenced by the Abstract, as well as German Expressionism. 1913 also marked the year that Hartley's earliest Berlin paintings were shown at the Armory Show in New York. In 1914, Hartley painted one of his most notable works, Portrait of a German Officer.
In 1916, Hartley moved back to the United States. However, he moved back to Europe and stayed there from 1921 to 1930. Once he returned to the United States, he lived in various places such as New Mexico, New York, and California. In 1937, Hartley decided to return to Maine. He remained in Maine and became part of the Regionalism movement. Hartley was also known for his story, Cleophas and His Own: A North Atlantic Tragedy. The artist died on September 2, 1943.