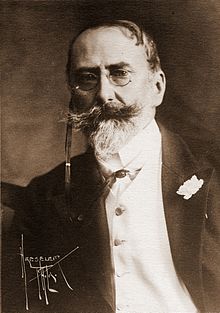 William Merritt Chase (1849-1916), was an American painter who settled in New York in 1878 after five years of studying in Munich and became the most important American teacher of his generation. He taught at the Art Students' League of New York and then at his own Chase School of Art, founded in 1896. The vigorous handling and fresh color characteristic of much of the best American painting of the early 20th century owes a good deal to his example. His pupils (whom he encouraged to paint in the open air) included Demuth, O'Keefe, and Sheeler. Chase was a highly prolific artist (his output of more than 2000 paintings included still lifes, portraits, interiors, and landscapes), and his work is represented in many American museums.
Chase won many honors at home and abroad, was a member of the National Academy of Design, New York, and from 1885 to 1895 was president of the Society of American Artists. He became a member of the Ten American Painters after John Henry Twachtman died.
Chase's creativity declined in his later years, especially as modern art took hold in America, but he continued to paint and teach into the 1910s. One of his last teaching positions was at Carmel, California in the summer of 1914. Chase died on October 25, 1916 in his New York townhouse, an esteemed elder of the American art world. Today his works are in most major museums in the United States.
The image that accompanies this article is a photograph of William Merritt Chase taken in 1900 by an unknown photographer.