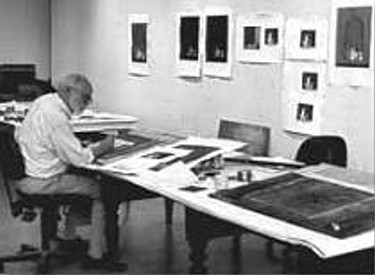 William Bailey was born in 1930 in Council Bluffs, Iowa, William Bailey is certainly American, but he has spent summers in his studio in the Italian countryside for more than forty years. The colors and feeling of Italy are important influences on his art. In American Visions: The Epic History of Art in America, Robert Hughes writes that Bailey's "calm arrays of pots, jugs, eggs, and bowls make up an ideal form-world, Platonic in its removal from 'the itch of desire.' Nothing spills out, thrusts forward, or wants to be touched or possessed — the traditional solicitations of still-life painting, most materialistic of arts. They are as removed from touch (and as grandly articulate in their scale) as the facade of a fine quattrocento building, seen from the other side of the piazza … an extreme opposite to the American taste for works of art which bear the signs of their struggle, unedited, in their final form."
Bailey paints and draws from his imagination and his memories of observation, rather than directly from models. He has said that he sees his still lifes as Italian cities. Although the things he depicts do exist in the real world — pots, pitchers, eggs, and (in separate contexts) nudes—his work projects a solemn, otherworldly perfection. Just as a city's aura comes not just from its buildings and streets, but from its history, the quality of its light, its temperature, and so on, the sensibility of Bailey's work does not come solely from the objects he depicts, but from the strangely familiar, silent nature of his world. Because of the precision of his art-making process, he completes only four or five paintings a year. He has worked in etching since 1974, when he made his first prints at Crown Point Press. He also works with Harlan and Weaver in New York.
For many years Bailey was an educator at the Yale University School of Art, where he received his BFA in 1955 and his MFA in 1957, and where from 1979 to 1995 he was the Kingman Brewster professor of art. His numerous awards include a Guggenheim Fellowship in 1965 and an invitation in 1992 to serve on the National Council on the Arts, a group of artists, arts administrators, and patrons appointed by the President to advise the chair of the National Endowment for the Arts. He has shown internationally, including at the Legion of Honor Museum in San Francisco, Galerie Claude Bernard in Paris, the Whitney Museum of American Art in New York, and the Kaoshiung Museum of Fine Arts in Taiwan. His work is in the collections of many university museums, including Michigan, Duke, and Yale, and other museums, such as the Smithsonian Institution in Washington, DC, the Suermondt-Ludwig-Museum in Aachen, West Germany, and the Whitney Museum of American Art. He is represented in New York by the Robert Miller Gallery.
– Rachel Lyon, Crown Point Press