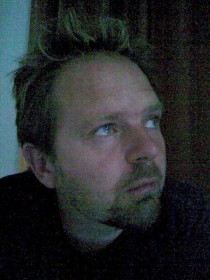 I paint out of the tradition of the new expressionists. Finding my inspiration from the experience of living in a world in constant motion and my feelings that are born out of what I see, both in myself and in the world. My training has consisted of tuition in Goethean color theory and practice with artist Beni Kleynhans and a three month general arts course at the Novalis College, Cape Town (1991), as well as lessons with artist Cyril Coetzee. Some of my works are held in private collections in the UK, Canada, Germany, and South Africa. I work as a part time Psychophonetics Counsellor, and help in the administration of the Anthroposophical Society in Southern Africa.
"The more clearly you understand yourself and your emotions, the more you become a lover of what is." – Baruch Spinoza.
In my personal creative process, I almost always begin from a place of not knowing. Something stirs within me, like being itchy under the skin. Its irritation begins to build in me, and I realize the need to express. I feel that something needs to be done. The process has been set in motion.
How is it that in the act of painting certain colors present themselves to us and the end result is the mixture of these into something new, a form that can be seen to be pleasing, frightening or even abhorrent?
What happens in the inner life of those who create with intention to bring awareness. What responsibility rests on the artist to honor the gift, of the creative element, drawn from the depths and the heights. Through my painting I am able to immerse myself into that which cannot be spoken. It seems to me that there exists a need for immersion into the chaotic unorganized parts of existence: stepping into the volcano, entry into the cauldron, and from here it becomes a possibility to transform the chaotic into some kind of order.
"Only what is chaotic can be made beautiful. When we transform the chaos in the cosmos, beauty arises. Chaos and Cosmos are thus interchangeable concepts. The cosmos (which means the beautiful world) cannot be created out of earthly things, but only out of chaos. And what we make out of earthly things is only an imitation, within matter, of already formed chaos." – Rudolf Steiner.
If as a man I am a microcosm of the cosmos, and continuously the cosmos is in a state of transforming chaos into cosmos, then in the same light it is my experience of this within myself, continuously working on transforming the chaos of my own being and so assisting in its evolution. When I paint I experience the colors of my inner life I experience that these are beings that I see, that this is the space in which I weave, that this is my creative landscape, my opportunity to show worlds being created and destroyed. I think my way into the paintbrush, I think the paints into imaginations.