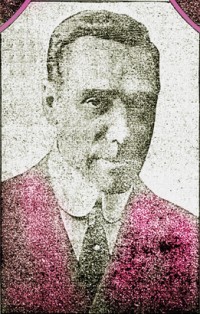 Penrhyn Stanlaws was born March 19, 1877 in Dundee Scotland as Stanley Adamson. He was the younger brother of another illustrator, Sydney Adamson, so he would change his name to avoid confusion.
Stanlaws' art could be found on several magazine covers throughout the 1910's and 20's, including the Saturday Evening Post, The American Magazine, Collier's, Life, Judge, The Metropolitan Magazine and Hearst's International.
He was best known for cover-art depicting beautiful women such as the Post cover shown here. His "Stanlaws Girl" rivaled the "Gibson Girl" and was modeled on silent star Anna Q. Nilsson. In 1915, tragic early star Olive Thomas was another of Stanlaws' subjects in the famed nude "Between Poses." Other early stars who posed for him included Mabel Normand and Florence LaBadie. Stanlaws would actually move to California to direct a few films in the early 1920's.
Prior to that though, while still in New York, Stanlaws would organize a syndicate to build the Hotel des Artistes where it still stands on 1 West 67th Street. Built as a co-op, but with rental units as well, Stanlaws claimed "that the 10-floor, $1.2 million structure was the largest studio building in the world" (nytimes.com). The Hotel des Artistes was completed in 1917 and while Stanlaws planned other projects including a never completed resort in Port Washington on Long Island.
Off to Hollywood soon thereafter Penrhyn Stanlaws finds himself credited on the IMDb as director of seven films: "The House that Jazz Built" (1921) starring Wanda Hawley, four Betty Compson vehicles: "At the End of the World" and "The Little Minister" (both also 1921), and "The Law and the Woman" and "Over the Border" (both 1922), plus two Bebe Daniels films, "Singed Wings" and "Pink Gods" (both 1922), the latter of which also featured the "Stanlaws Girl," Anna Q. Nilsson.
Penrhyn Stanlaws died in Los Angeles, May 20, 1957 in a fire said to have started when he fell asleep in a chair while smoking.