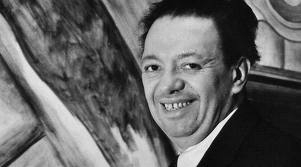 Diego Rivera, born December 8, 1886, in Guanajuato, Mexico, sought to make art that reflected the lives of the Mexican people. Now thought to be one of the leading artists of the twentieth century, Rivera began drawing as a child. He studied art at the San Carlos Academy of Fine Arts while in his teens and then traveled to Europe to live and work on his art. He had some success as a Cubist painter, but the course of world events would strongly change the style and subject of his work. Inspired by the political ideals of the Mexican Revolution (1914–15) and the Russian Revolution (1917), Rivera wanted to make art that reflected the lives of the working class and native peoples of Mexico.
In 1921, through a government program, Rivera began to express his artistic ideas about Mexico, its people and its history by starting a series of murals in public buildings. In the 1930s and 1940s, Rivera painted several murals in the United States. Some of his works created controversy, especially the one he did for the Rockefeller family in the RCA building in New York City. The mural, known as Man at the Crossroads, featured a portrait of Russian communist leader Vladimir Lenin. The Rockefellers protested, but Rivera refused to remove the portrait. The Rockefellers had Rivera stop work on the mural and had it destroyed.
His personal life was as dramatic as his artwork. In 1929, he married artist Frida Kahlo, who was roughly 20 years his junior. The two had a passionate, but stormy relationship, divorcing once in 1939 only to remarry later. She died in 1954. He then married Emma Hurtado, his art dealer. Rivera died of heart failure on November 24, 1957, in Mexico City, Mexico.