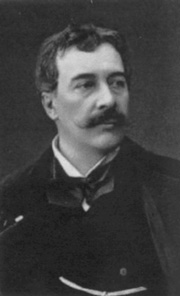 Alfred Stevens (born 1823, Bruxelles, died 1906, Paris), was a Belgian painter and lithographer. Born in Belgium, Stevens chose to spend his adult life in Paris where he was a comrade of the French Impressionists. Though never actually one of them, he embraced many of their artistic innovations, including the broken brushwork, dark swaths of background color, and Japanese elements evident in this painting. He became famous for his society portraits of beautiful aristocratic women and fairly early in his career, became 'hors concours,' an honor which meant his automatic acceptance at every exhibition of the Paris Salon.
By 1880 Alfred Stevens had reached the height of his career and the front rank of his profession. Stevens could trace his artistic descent from David (through his chief Belgian pupil, François-Joseph Navez) and Ingres himself, who is said to have given him criticism at the Ecole des Beaux-Arts. Moreover, his family on both sides took an active interest in the arts. Stevens's career began to blossom in the mid 1850's when he found his true subject matter, intimate scenes of women in contemporary dress, but his full success in this genre occurred in the following decade when his pictures were acquired by such purchasers as the Brussels Museum and King Leopold of the Belgians. At the great Paris Exposition Universelle of 1867 he triumphed with eighteen entries, a first-class medal, and promotion to officer of the Legion of Honour.
Though he lived until 1906, his active career ended in the mid-1890's. So great, however, was his legacy that as the century closed, in 1900 he was accorded the first-ever retrospective exhibition of the work of a living painter at the Ecole des Beaux-Arts.