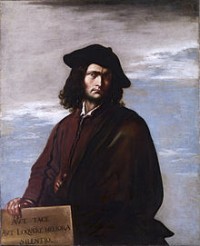 Rosa was one of the least conventional artists of 17th-century Italy, and was adopted as a hero by painters of the Romanticist movement in the later 18th and early 19th centuries. He was mainly a painter of landscapes, but the range of his subject matter was unusually wide and included portraits and allegories. He also depicted scenes of witchcraft, influenced by Northern prints.
Rosa's training took place in Naples, where he was born, and the main influences on his early work were Ribera and Aniello Falcone, a painter best known for his battle scenes. Following visits to Rome in the later 1630s Rosa worked in Florence and its neighborhood (1640–9), before returning to Rome, where he eventually died.
His scenes of witchcraft reveal his interest in the irrational and less conventional intellectual preoccupations of his age. These also formed the background to his etchings, and to the satires which he wrote.
The image that accompanies this biography is a Self-portrate by Rosa, circa 1645, entitled, Philosophy. It is an oil on canvas painting that is 116.3 x 94 cm, and is held at the National Gallery, in London. The Latin inscription is, "Keep silent unless what you are about to say is more important than silence."