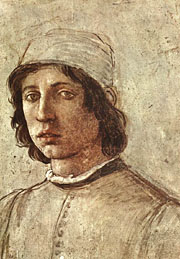 Florentine painter, the son and pupil of Fra Filippo Lippi. who died when the boy was about 12. The boy completed his father's work (or at least cleared up his estate) in Spoleto (the final receipts for Filippo's frescoes in the Spoleto Cathedral was signed by Filippino) and he set off alone for Florence on 1 January 1470. He also studied with Botticelli and learned much from his expressive use of line, but Filippino's style, although sensitive and poetic, is more robust than his master's. The first certainly datable work by Filippino is the Annunciation on two tondi (1483–84, San Gimignano).
His first major commission was the completion of Masaccio's and Masolino's fresco cycle in the Brancacci Chapel of Sta Maria del Carmine, which had either been left unfinished by Masaccio or had been partially destroyed. This task he carried out with such skill and tact that it is sometimes difficult to tell where his work begins and that of more than half a century earlier ends.
Filippino painted several other frescoes, the most important of which are cycles on the life of St Thomas Aquinas (1488–93) in the Carafa Chapel, Sta Maria sopra Minerva, Rome, and the lives of Sts Philip and John (1495–1502) in the Strozzi Chapel, Sta Maria Novella, Florence. In these he strove for picturesque, dramatic and even bizarre effects that reveal him as one of the most inventive of late Quattrocento painters. His years in Rome gave him the opportunity to study antique remains: ever afterwards he introduced bits and pieces of antiquity into all his pictures, whether suitable or not.
Filippino also painted many altarpieces, the most famous of which is the Vision of St Bernard (Badia, Florence, c. 1480), an exquisitely tender work, full of beautiful detail. There are many panels datable in the 1490s and the last years of his life, but like Botticelli, his style went out of date in his lifetime: it is sometimes called 'Quattrocento Mannerism.'
Although he is now somewhat undershadowed by Botticelli, Filippino enjoyed a great reputation in his lifetime, being described by Lorenzo de' Medici as 'superior to Apelles.'
From October of 1916 through January of 1917, Rudolf Steiner gave a series of nine lectures known as the Art Course. These lectures were given the title of: The History of Art. Click here to discover what Steiner said about Filippino Lippi in the first lecture, or in the entire lecture series.