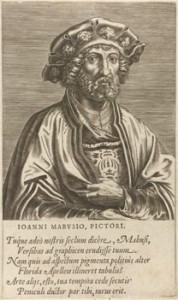 Mabuse, born c. 1478, County of Hainaut, died c. 1532, Breda, Brabant (now in Netherlands), was originally named Jan Gossaert, or Jenni Gossart, also called Jan Malbodius. He was a Flemish painter who was one of the first artists to introduce the style of the Italian Renaissance into the Low Countries.
He derived the name Mabuse from his family home, Maubeuge, in northern France. He is most likely to be identified with one Jennyn van Hennegouwe, who is registered as a master in the Guild of St. Luke at Antwerp in 1503. His most important early work extant is the "Adoration of the Kings" (National Gallery, London), which is painted in the ornate style of the Antwerp school. Other early works, such as "Jesus, the Virgin, and the Baptist" (Prado, Madrid), reflect his interest in the works of Jan van Eyck and Albrecht Durer. Another early work, famous for its sense of mood, is the "Agony in the Garden" (Staatliche Museen Preussischer Kulturbesitz, Berlin).
In 1508 Mabuse accompanied his employer, Philip of Burgundy, to Italy, where he was strongly impressed by the art of the High Renaissance. After his return from Italy in 1509, he continued to study Italian art through the engravings of Marcantonio Raimondi and Jacopo de'Barbari. Mabuse's subsequent work shows a continuous effort to develop a fully Italianate style. This is evident in such works as the "Neptune and Amphitrite" (1516; Staatliche Museen Preussischer Kulturbesitz) and the "Hercules and Deianira" (1517; Barber Institute, Birmingham, Eng.), in which his early, complex designs have given way to a comparatively simple and direct conception.
Sculpturesque nudes become common in Mabuse's later paintings, but they seldom avoid the stiff, lapidary quality ofhis earlier figures. In his "Danae" (Alte Pinakothek, Munich), Mabuse employs an elaborate architectural setting as a foil for the seminude figure, a device he frequently used. Throughout his life, he retained the jewellike technique and careful observation that were traditional in Netherlandish art.
Mabuse was also a renowned portrait painter. His portraits, such as the "Charles de Bourgogne" (Staatliche Museen Preussischer Kulturbesitz), "Eleanor of Austria" (c. 1525; H.A.Wetzlar Collection, Amsterdam), and "Jean Carondelet" (1517; Louvre, Paris), reveal his facility for psychological perception and are particularly notable for their expressive depiction of hands.