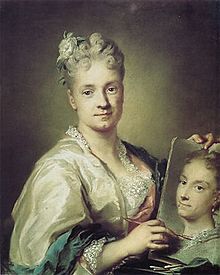 Rosalba Carriera, in full Rosalba Giovanna Carriera (born Oct. 7, 1675, Venice – died April 15, 1757, Venice), portrait painter and miniaturist, an originator of the Rococo style in France and Italy. She is best known for her work in pastels.
Some scholars suggest that Carriera learned lace-making from her mother and that, as the lace industry declined, she instead began decorating snuffboxes for the tourist trade. Whatever the origins of her interest, Carriera first became known for her miniature portraits on snuffboxes. She was the first artist to use ivory rather than vellum as a ground for miniatures. By the time Carriera was age 25, her miniatures had won her special membership in the Academy of St. Luke in Rome.
Her art suited the refined taste of her times. Many notables passing through Venice commissioned portraits from her. The collector and financier Pierre Crozat encouraged her to go to Paris. She did so in March 1720, accompanied by her family, and became the idol of the French capital; she received commissions for 36 portraits, among them one of Louis XV as a child. She became a member of the French Royal Academy in 1720 and the next year returned to Venice and her home on the Grand Canal. In 1730 she once more left Venice, this time to work for six months in Vienna, where Holy Roman Emperor Charles VI became her patron and the empress became her pupil. After 1750 Carriera's sight failed.