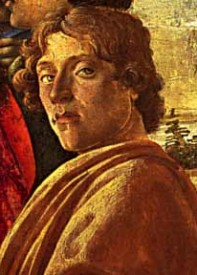 Botticelli, whose original name was ALESSANDRO DI MARIANO FILIPEPI (born 1445, Florence, Italy – died May 17, 1510, Florence), was a Florentine early Renaissance painter whose Birth of Venus (c. 1485) and Primavera (1477–78) are often said to epitomize for modern viewers the spirit of the Renaissance. His ecclesiastical commissions included work for all the major churches of Florence and for the Sistine Chapel in Rome. His name is derived from his elder brother Giovanni, a pawnbroker, who was called Il Botticello ("The Little Barrel").
Although he was one of the most individual painters of the Italian Renaissance, Sandro Botticelli remained little known for centuries after his death. Then his work was rediscovered late in the 19th century by a group of artists in England known as the Pre-Raphaelites.
Born Alessandro di Mariano Filipepi in Florence in 1445, Botticelli was apprenticed to a goldsmith. Later he was a pupil of the painter Fra Filippo Lippi. He spent all his life in Florence except for a visit to Rome in 1481–82. There he painted wall frescoes in the Sistine Chapel of the Vatican.
In Florence, Botticelli was a protege of several members of the powerful Medici family. He painted portraits of the family and many religious pictures, including the famous The Adoration of the Magi. The most original of his paintings are those illustrating Greek and Roman legends. The best known are the two large panels Primavera and The Birth of Venus.
The image accompanying this article is a probable self-portrait of Botticelli in his Adoration of the Magi, painted in 1475.
From October of 1916 through January of 1917, Rudolf Steiner gave a series of nine lectures known as the Art Course. These lectures were given the title of: The History of Art. Click here to discover what Steiner said about Botticelli in the first lecture, or in the entire lecture series.